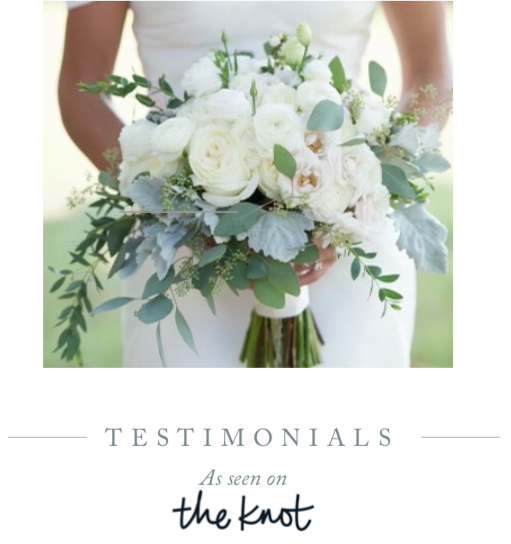 "We spoke with several floral decorators
before hiring Bella Flowers for our wedding
and there were a few reasons why they came out on top. Ronnie is approach- able, down to earth, and very knowledgeable about flowers. He loves what he does and it shows. What we loved most about working with Ronnie was that he was very honest and genuine with us, even if he knew it wasn't
what we necessarily wanted to hear. He was never just trying to make a sale or take advantage of our inexperience. He was happy to create whatever we wanted, but was always sure to clue us in on the pro's and con's of each choice and what would go into making it happen.
He helped us create our vision within our budget (which was very reasonable compared to all the other companies we spoke to) and everything looked just beautiful. Not to mention, visiting Bella Flowers in their beautiful location in Huntington is so charming, and feels like a warm and cozy hug. Our hats go off to Ronnie and Bella Flowers! Thank you!"
Jenna D. 12/4/2022
"Ronnie was AMAZING and so
wonderful to work with!
I was not looking to spend a crazy amount on flowers and I wanted something simple, and Bella Flowers DELIVERED! My flowers were stunning and I loved my bridesmaids bouquets! Ronnie also provided the arch for our ceremo- ny, the centerpieces, and the extra flowers sprinkled around the reception! Ronnie was responsive, professional, and created sample bouquets weeks before my wedding which was so nice to see in person! I highly recommend Bella Flowers!"
Bradie B. 8/14/2021
We had an amazing experience working with Ronnie at Bella Flowers.
He is truly an expert and was able to walk us through all our options and bring our wedding vision to life. The flowers were set up beautifully and added the perfect amount of ambiance to our event. We could not be happier that we went with Bella Flowers and highly recommend them for all wedding floral needs!!
Leslie O. 10/19/2021
"Family and friends had used Bella flowers and after our first meeting with Ronnie we knew why so many people use them.
We sent over pictures of what we wanted prior to our meeting and he was able to bring our vision to life. I loved my flowers so much I had them preserved! Can't thank Ronnie and everyone at Bella flowers enough!"
Rebekah A. 11/5/2021
"I met Ronnie about 9 months before the wedding and knew instantly I wanted to work with him for our wedding day.
He is so personable and has such an eye for floral arrangements. He asked me to describe what I wanted and while I knew what I wanted in my head, I know nothing about flowers… so it wasn't easy for me to articulate. Somehow, he knew exactly what I wanted and instantly gave me a vision for our special day. Fast forward to our wedding… due to COVID-19 our wedding moved from a venue to my in-laws backyard about 2 months out from our wedding date and Ronnie was so accommodating and made the backyard and centerpieces absolutely stunning with just a few minor adjustments. We are so grateful for Ronnie and loved working with him start to finish.
Kate F. 10/9/2021