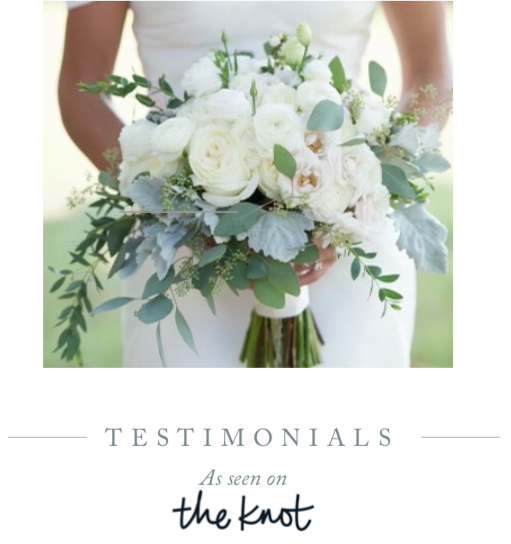 "Hi Ronnie! Just wanted to say THANK YOU!!!
You rocked it OUT OF THE PARK with my wedding flowers!!!!! We were all truly blown away. Just absolutely stunning. I was FLOORED!!Thank you thank you!!! I am still in shock over it lol. Will share the pics with you when we get them."
Emily Krusos 6/25/2023
"Bella flowers was hands down the best vendor I had participate in my wedding.
Not only were they exceptional in the process leading up to the event, but they went out of their way to make sure every aspect of our wedding day was perfect. Before booking with them I had another florist booked and cancelled without a second thought after meeting with Ronnie and Lisa- they are AMAZING!!! I recommended them to another bride that I found was getting married at the same venue and they did the exact same thing. The flowers were so fresh and beautiful- I couldn't ask for anything better. Reasonably priced, exceptional service, and an outstanding product. Bella Flowers is simply a no brainer!"
Cristina B. 5/30/2023
"We cannot say enough good things about Ronnie, Lisa and the entire staff at Bella Flowers!
We got married this past Thursday at Harbor Club at Prime, and we are SO thankful we chose them as our florist for the big day. Ronnie was so attentive, and really took the time to sit with us during the planning process and understand our vision. His attention to detail was incredible, and it was obvious from the second we sat down with him that he really cared. Not only did he plan the vision for the big day, but he personally oversaw the execution on the day of! His passion and dedication is rare in this industry, and we will forever be grateful to them for making our big day feel so beautiful!"
Mackenzie & Chris S. 5/7/2023
"Ronnie at Bella Flowers was our florist, and we cannot recommend him enough.
He very much cared about our entire wedding vision and how flowers/floral arrangements would fit into this, and leveraged his considerable expertise to not only find a floral theme that went seamlessly with our wedding, but also was reasonably priced. Since we are not flower experts and not particular about the type of flower but rather the overall look and feel, he anticipated this and was able to select a combination that delighted us. When we came in to see the centerpiece example, we were blown away and had no requests for changes – not something typical of us! Thank you, Ronnie so much for helping make our wedding day beautiful and making the planning leading up to it easier and more enjoyable."
Rachel and Rian M. 12/29/2022
"Ronnie and Lisa were a great team to work with! As soon as I met with Ronnie,
I felt like he understood exactly what I was looking for, he was so easy to work with and went above and beyond on my wedding day to take away stress I had. The flowers were stunning, fresh, and perfect l. Thank you so much for your beautiful work and making our day so memorable!"
Theresa H. 12/18/2022
"Working with Ronnie was a dream.
He understood exactly what we were looking for and put together the most beautiful centerpieces, bouquets, boutonnieres, etc. He was even able to do a last-minute request for mantle and sweet heart table flowers that all turned out beautifully. He really knows flowers and won't steer you wrong."
Elisabeth M. 4/29/2022
"We spoke with several floral decorators
before hiring Bella Flowers for our wedding
and there were a few reasons why they came out on top. Ronnie is approach- able, down to earth, and very knowledgeable about flowers. He loves what he does and it shows. What we loved most about working with Ronnie was that he was very honest and genuine with us, even if he knew it wasn't
what we necessarily wanted to hear. He was never just trying to make a sale or take advantage of our inexperience. He was happy to create whatever we wanted, but was always sure to clue us in on the pro's and con's of each choice and what would go into making it happen.
He helped us create our vision within our budget (which was very reasonable compared to all the other companies we spoke to) and everything looked just beautiful. Not to mention, visiting Bella Flowers in their beautiful location in Huntington is so charming, and feels like a warm and cozy hug. Our hats go off to Ronnie and Bella Flowers! Thank you!"
Jenna D. 12/4/2022
"Ronnie was AMAZING and so
wonderful to work with!
I was not looking to spend a crazy amount on flowers and I wanted something simple, and Bella Flowers DELIVERED! My flowers were stunning and I loved my bridesmaids bouquets! Ronnie also provided the arch for our ceremo- ny, the centerpieces, and the extra flowers sprinkled around the reception! Ronnie was responsive, professional, and created sample bouquets weeks before my wedding which was so nice to see in person! I highly recommend Bella Flowers!"
Bradie B. 8/14/2021
We had an amazing experience working with Ronnie at Bella Flowers.
He is truly an expert and was able to walk us through all our options and bring our wedding vision to life. The flowers were set up beautifully and added the perfect amount of ambiance to our event. We could not be happier that we went with Bella Flowers and highly recommend them for all wedding floral needs!!
Leslie O. 10/19/2021
"Family and friends had used Bella flowers and after our first meeting with Ronnie we knew why so many people use them.
We sent over pictures of what we wanted prior to our meeting and he was able to bring our vision to life. I loved my flowers so much I had them preserved! Can't thank Ronnie and everyone at Bella flowers enough!"
Rebekah A. 11/5/2021
"I met Ronnie about 9 months before the wedding and knew instantly I wanted to work with him for our wedding day.
He is so personable and has such an eye for floral arrangements. He asked me to describe what I wanted and while I knew what I wanted in my head, I know nothing about flowers… so it wasn't easy for me to articulate. Somehow, he knew exactly what I wanted and instantly gave me a vision for our special day. Fast forward to our wedding… due to COVID-19 our wedding moved from a venue to my in-laws backyard about 2 months out from our wedding date and Ronnie was so accommodating and made the backyard and centerpieces absolutely stunning with just a few minor adjustments. We are so grateful for Ronnie and loved working with him start to finish.
Kate F. 10/9/2021